En savoir plus sur … The BULL RING, BIRMINGHAM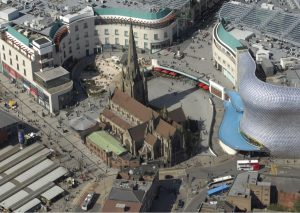 The Bull Ring is a major commercial area of central Birmingham. It has been an important feature of Birmingham since the Middle Ages, when its market was first held. Two shopping centres have been built in the area; in the 1960s, and then in 2003; the latter is styled as one word, Bullring.
The site is located on the edge of the sandstone city ridge which results in the steep gradient towards Digbeth. The slope drops approximately 15 metres (49 ft) from New Street to St Martin's Church which is very visible near the church.
The current shopping centre was the busiest in the United Kingdom in 2004 with 36.5 million visitors. It houses one of only four Selfridges department stores, the fourth largest Debenhams and Forever 21. Consequently, the centre has been a huge success, attracting customers from all over the world.
What is Blob Architecture? What is Blobitecture?
Living in Binary Large Objects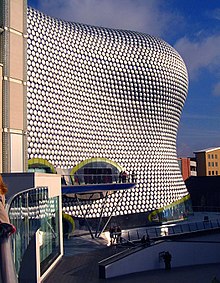 Blob architecture is a type of wavy, curvy building design without traditional edges or traditional symmetric form. It is made possible by computer-aided-design (CAD) software. American-born architect and philosopher Greg Lynn is credited with coining the phrase, although Lynn himself claims the name comes from a software feature that creates Binary Large Objects.
The name has stuck, often disparagingly, in various forms, including blobism, blobismus, and blobitecture.
Examples of Blob Architecture:
These buildings have been called blobitecture:
Selfridges Department Store (pictured on this page) in Birmingham, United Kingdom
Guggenheim Museum in Bilbao, Spain (designed by Frank Gehry)
Xanadu Houses in Kissimmee, Florida
The Sage Gateshead (view image) in Newcastle, UK (designed by Norman Foster)
Admirant Entrance Building in Eindhoven, Netherlands (designed by Massimiliano Fuksas)
Galaxy SOHO in Beijing, China (designed by Zaha Hadid)
The Experience Music Project (EMP) in Seattle, Washington (designed by Frank Gehry)
Other Architects Experimenting with Blob Modeling:
Massimiliano Fuksas
Zaha Hadid and Patrik Schumacher